Website:
5 Gyres
Marcus Eriksen
Marcus Eriksen is the Director of Research and co-founder of the 5 Gyres Institute. He studies the global distribution and ecological impacts of plastic marine pollution, which has included expeditions sailing 40,000 miles through all 5 subtropical gyres to discover new garbage patches of plastic pollution in the Southern Hemisphere.
By: Marcus Eriksen
Your clothes, blankets, curtains, carpets, that umbrella covering your picnic table, seat cushions, all of it, is shedding trillions of nano- and micro-fibers of synthetic polymers. It's found in bottled...
By: Marcus Eriksen
"There's your product. It's all plastic bags," I said to Phil Rozenski, during a recent debate about plastic bag bans at the Sustainable Packaging Coalition conference in Charlotte, North Carolina. The object...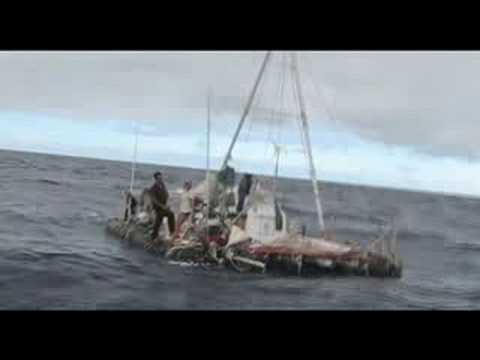 By: Marcus Eriksen
In 1958, Don McFarland was one of four men who built a 9 ton wooden box and drifted to Hawaii in 69 days. Exactly 50 years later in 2008 I...
By: Marcus Eriksen
5 Gyres sat with the president of ASIPLA, the Chilean version of the American Chemistry Council (ACC) and the company Cambiaso, the largest plastic bag recycler in South America to...
By: Marcus Eriksen
A small sampling of plastic found while dragging. (Photo Credit: 5 Gyres) Written with Sandra Meola, Brian Smith, Sherri A. Mason, Reece Paecheo and David T. Conover...
By: Marcus Eriksen
Photo Credit: 5 Gyres On June 23, 2015 the 5-Gyres' ship the Mystic, a 172 foot three-masted schooner, sailed into New York Harbor. We dragged our surface...
By: Marcus Eriksen
Mae West when she was first found, trapped in a milk jug ring. (Photo via 5 Gyres Institute) Have you seen this photo circulating on the...
By: Marcus Eriksen
June 13, 2015 North Atlantic Ocean Jack Johnson examining a research sample on our 2015 Sea Change Expedition. (Image Credit: 5 Gyres Institute) Less than 100...
By: Marcus Eriksen
While traveling around the world with 5 Gyres Institute, we've seen many of the same problems – an abundance of plastic damaging wildlife and hurting quality of life for communities....
By: Marcus Eriksen
Image Credit: 5 Gyres 5 Gyres joined the crew of 2041 to Antarctica to survey plastic pollution.  Our missions are aligned.  2041 aims to "…build personal...
By: Marcus Eriksen
Image: 5 Gyres Robert Swan is one of those guys wearing icy beards standing on a flat white horizon in those tattered photographs of polar explorers...
By: Marcus Eriksen
I hear the exhale before I see the fin atop the arched back of a juvenile humpback whale, then the wide white fluke before a long dive.  The second whale...