Website:
TreePeople
TreePeople
TreePeople's mission is to inspire, engage and support people to take personal responsibility for the urban environment, making it healthy, fun, safe and sustainable – and to share the process as a model for the world.
Our focus is on managing rainwater by incorporating green, nature- based infrastructure into greater Los Angeles in order to promote a thriving urban ecosystem. The power of trees yields numerous environmental, social and economic benefits, while helping eliminate waste and urban runoff.
For four decades, TreePeople has been dedicated to working with Angelenos of all ages to create a greener Los Angeles for generations to come.
By: TreePeople
Los Angeles is a unique city with complex water and climate challenges. This makes our goal of growing a sustainable region no easy task. That's why it's so important to...
By: TreePeople
"Flat is so pass… until 1825 it was seldom, if in any year, that the river discharged even during the rainy season its waters into the sea. Instead of having...
By: TreePeople
So, you're ready to prune your trees?  Not so fast! Here at TreePeople, we strongly recommend hiring a professional tree trimming service to ensure your trees are healthy and properly...
By: TreePeople
Many people falsely assume that LA is a desert. It's not. Actually, we are one of the few places on Earth that enjoy a Mediterranean climate. That's one of the...
By: TreePeople
Have you seen trees like this in your neighborhood? Photo via TreePeople Tree topping is a pruning practice that could cause long-term damage to your trees....
By: TreePeople
It's the Fourth of July! America is known for many things: freedom, baseball, diversity and more. But when you think of America, do you think of trees? You should! With...
By: TreePeople
With the opening of the Expo Line extension last month and more on the way, Metro's role in shaping Los Angeles has been on our minds. But did you know...
By: TreePeople
We are so impressed! Congratulations to all the schools that participated in the Streets to the Sea Challenge! The Challenge recognizes students who organize service-learning projects around stormwater pollution prevention and...
By: TreePeople
As TreePeople's Urban Forestry Manager, it's my job is to help communities organize and run tree plantings, usually in their neighborhoods. The first event I ever supported was fantastic but,...
By: TreePeople
People have been using plants for our health and well-being for thousands for years–even to this day. For instance, we consume super foods like avocados or goji berries to strengthen...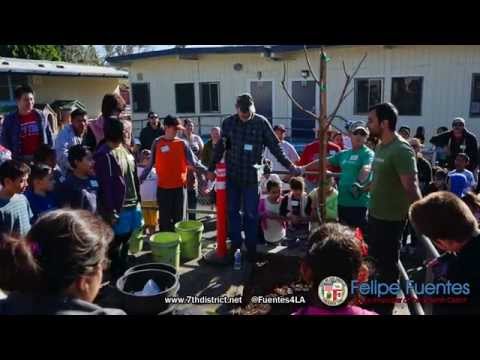 By: TreePeople
Good news! The Los Angeles City Council recently passed a motion to establish a "cooling target" for the City– in other words, it will soon be setting a target to...
By: TreePeople
It's Compost Awareness Week! Compost offers tons of benefits for your landscape. It enriches the soil, delivers nutrients to plants and keeps water in the ground to help fight drought....